MURIEL PERSIL
Au fond de l'eau
Mural sculpture
Earthenware, engobe, matt cover,
40×40 cm
2017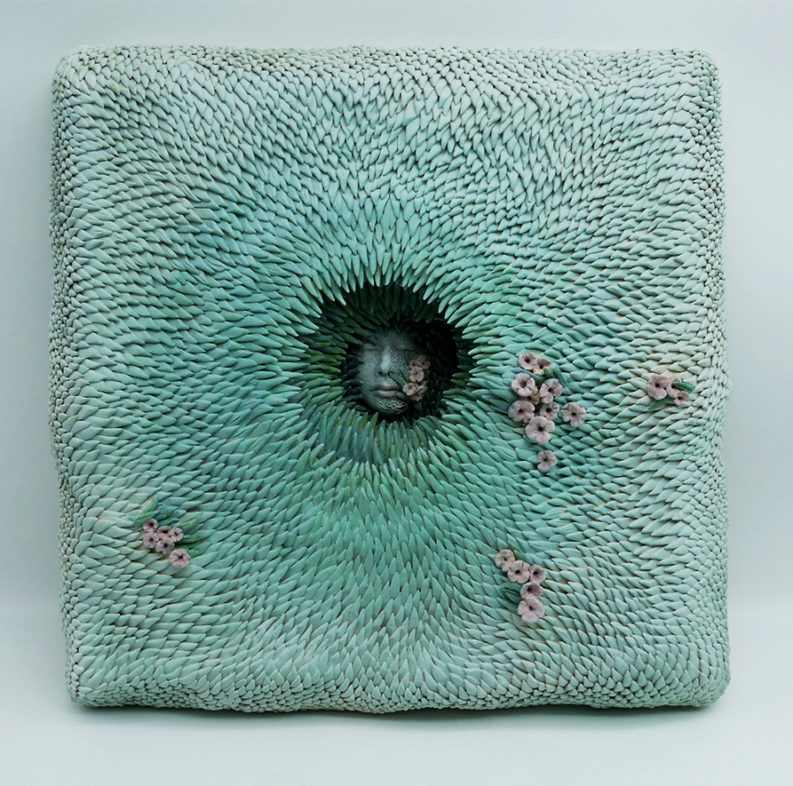 "Au fond de l'eau" [Deep in the Water] is a wall piece that treats the aquatic theme, central to Muriel Persil's research, which revisits an aesthetic explored by the Romantics and Symbolists.
Associated with the "passage" between life and death, the real and the imaginary, the universal and the intimate self, water translates the marvellous territory where the deepest self is probed in response to 19th century determinism and scientism. The metapsychosis that designates the migration of souls conjugates these paradoxical worlds that question immortality.
"Au fond de l'eau", announces Le Chant d'Ophélie [The Song of Ophelia] .
With this installation Muriel Persil deepens the theme of passage and transmutation.
In the posture of the recumbant, lips open, the young girl's song is like a call that makes you pass from one mode to another. The body is suspended, floating between covering and enfilling in an aquatic garden that promises death as much as a slow rebirth.
— Galerie Lligat.
An Ophelia in earthenware by Muriel Persil
We are not at the theatre. And yet … Ophelia, the Shakespearean figure, Hamlet's neglected lover, is very present. She is even the central character in the installation by Muriel Persil (born in Paris in 1966) at the Hyacinthe Rigaud Museum of Art.
"This theme has been used frequently, but ceramics add to it; it accentuates its baroque and luxurious side", explains Claire Muchir, the director of the establishment. Imposing, this splendid sculpture (1.95×0.87m) traces the passage between life and death, floating between two banks, half alive in the midst of aquatic and terrestrial flora. A vegetal wall (4x2m) made up of a multitude of small pieces of clay (leaves, flowers…) stands behind the body of Polonius' daughter and Laërte's sister. "It's a way of creating a continuity of the living", stresses Muriel Persil whose passion for this heroine was born about ten years ago "by discovering a reproduction in an art book of a painting by the Pre-Raphaelite John Everett Millais. Since then, I have given many versions of it in paintings or performances ". Trained at the Beaux-Arts painting workshop, ceramics has recently been a subject of interest. About five years ago. "I have continued this story in the same movement, I make Ophelia in different forms. I feel great satisfaction with this material," she explains.
This glazed earthenware recumbent is like a large puzzle, fragmented into 13 distinct parts (due to the size of its oven), of which almost every piece can be dismantled.
Of course, we can also rediscover water, nature, and her taste for colours. Like a 3D painting. "I put my past as a painter at the service of volume", she says.
— Dominique Poiret. "La revue de la Céramique et du verre". N° 227 July-August 2019.