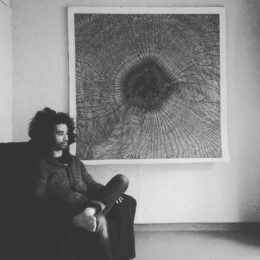 Naym Ben Amara
Born in Bastia in Corse (France), in 1984. He lives and works in Aveyron.
University studies in Organic Chemistry in Corsica, punctuated by artistic research extended to various practices: theatre, dance, painting.
Since 2014, Naym Ben Amara has devoted himself exclusively to drawing with Indian ink.
I sometimes point out that my aesthetic conduct usually begins with a blank sheet of paper. In explaining this research, I sometimes compare the blank sheet of paper to a neutral photographic film, a blank film. Like a photographer's material, my medium is such that I can fix, concretise, realise and capture forms on it. It is possible to say, indeed, that I capture these forms: captation and, so to speak, catch. Captation because it is a sampling. Catch because it is called to be definitively fixed, that is to say, taken when it is unfinished, it is up to it, the form, to bear witness [to memory] to its concretisation, its materialisation. Dialogue, finally, because I have come to understand that the emergence of a form is undeniably a kind of conversation with it.